FIVEBROTHER Metal Snap Front Flannel Shirt
Stay Comfortable and Warm in this Brushed, Heavyweight 9 oz., 100% cotton, flannel shirt with Metal Snap Closures from the original FIVEBROTHER shirt company. This shirt design is inspired by the logging industry...Full Cut, Sturdy Triple-Needle Stitching and Heavyweight! Wear it tucked in for a great every day look or wear it out as a lightweight shirt jacket. Casual enough for the week end and tough enough for any job. FIVEBROTHER began making shirts in 1890 and is back with this authentic, high-quality, heavyweight "Heirloom" Brawny Flannel Shirt. Expect 3 to 5% shrinkage.
More Quality Features from FIVEBROTHER....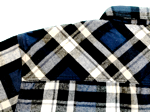 BIAS PLY YOKE ON BACK
Not Just for Looks but a Real Comfort Plus for You! We sew the fabric at an angle to form the yoke, this allows the fabric to stretch across the width of your shoulders. So, when you lace your boots, drive a truck, twist or reach...you put pressure on the yoke. Our yoke stretches to accommodate your movement without pinching and binding!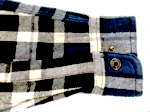 TWO SNAP CUFFS
Adjustable openings on each cuff. After all...not everyone's arm is the same size. More Warmth...no more open cuffs...no more tight cuffs!
Lot Number
5901.7B
Features
9oz 100% Heavy Weight Cotton Yarn dyed Brushed Flannel Fabric
Metal Snap Front Shirt
Relax Fit - Full Comfort
Bias Ply Yoke on Back for Ease of Movement & Comfort
2 Chest Pockets with Button Closure Flaps, 1 with Pencil Stall
Large Pockets for Cell Phones
Button Closure at Neck for Comfort
6 Snap Front Closure / 7 on Tall Sizes
2 Snap Cuffs for Fit Adjustment
Extra Long Shirt Tails
Triple Needle stitching
Imported